tl;dr: KDE (in) Austria has a party in Vienna this Saturday and you should join. More Infos here: KDE Austria Party
I am going was at KDE Akademy 2014. From Vienna to Brno it is just an 2 hour bus ride, so it didn't take much advance planning to go to this years Akademy. Previously I've been to the Desktop Summit 2011 in Berlin and last years Akademy in Bilbao. It was really great to see everyone again, meet new friends, drink awesome czech beer and dedicate time for hacking on OpenSource Software. (Late) Thanks to the organizer for this awesome Akademy!

Early during Akademy, I realized that due to the fact that Brno is so close to Austria, there were around 10 attendees that live in Austria. Probably more than on any Akademy before. Unfortunately there isn't (yet) much KDE community in Austria, but we want to change that, as you can also see in the picture below (Kevin Krammers contribution to Lydias project: "One thing that would make KDE better"):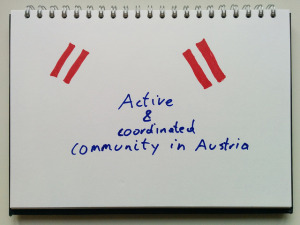 When the BoF sessions started on Monday I also organized a spontaneous BoF with the topic: KDE (in) Austria.
The BoF was attended by 7 people, we planned some events (one of them will be this Saturday) and we now also have our own mailinglist for communication & coordination. If you live in or close to Austria, join the mailinglist.
Also, if you have time this Saturday, come to our "(late) Plasma 5.1 Release/(very early) Plasma 5.2 Release/Qt 5.4/End of Year Party". You will also find all the infos below:
Hope to see many of you there or on (possible) future events 🙂